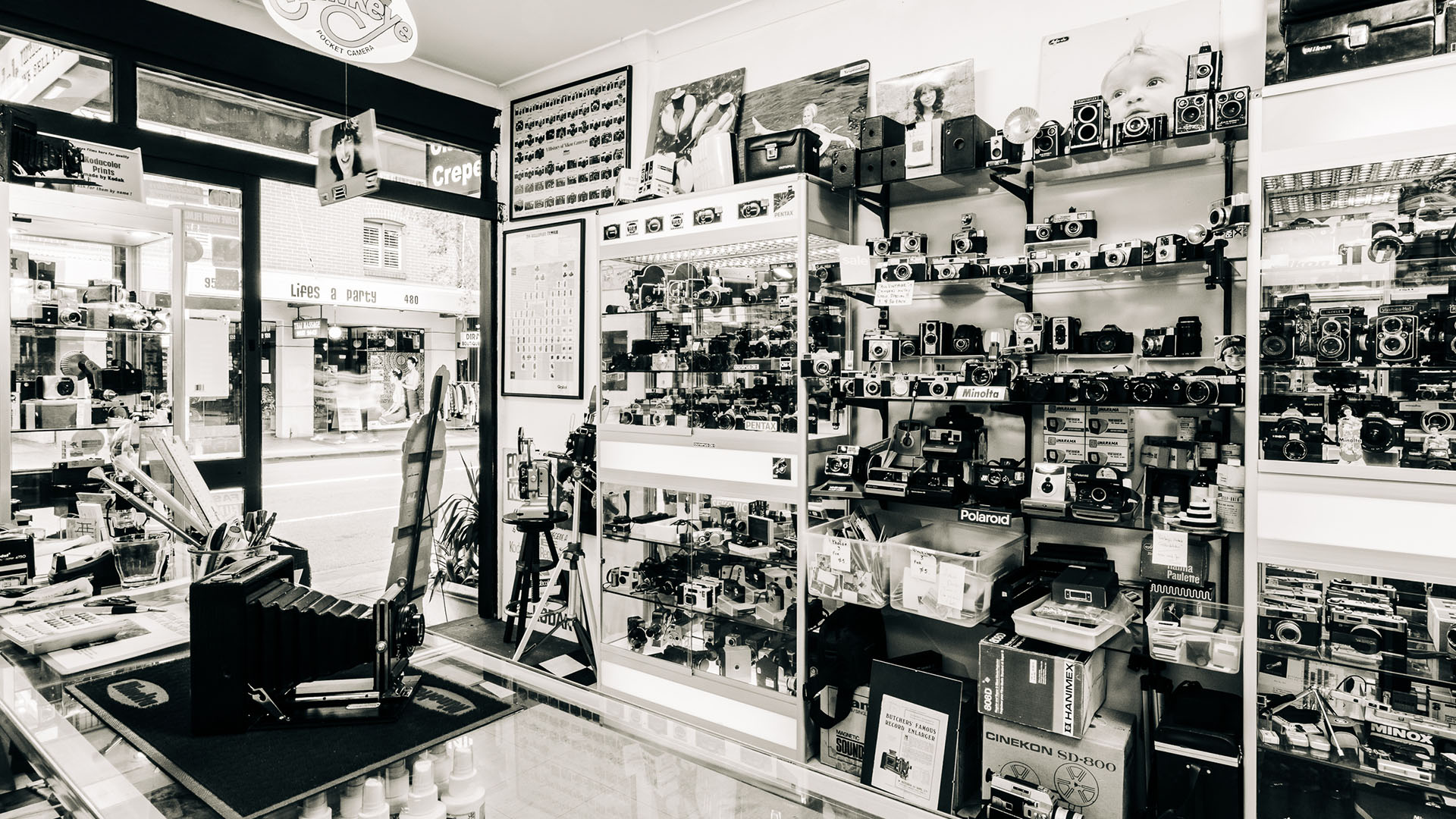 Vintage cameras, mainstream and rare film, camera repairs, film processing, printing, and much more. Don't hesitate to get in touch for more information.



 35mm • 120 • 110
Super 8 • 16mm
BW • Color Negative • Slide
C41, E6 and BW processing and scanning for most film formats.

Super 8  through our partner labs 
Professional Fuji printing resulting in authentic photographic prints.
Servicing, cleaning and repairs of most old school prime lenses and film camera bodies. 
We buy and sell almost anything vintage film related
The store offers all types of old school cameras, stills and motion, and has virtually anything emulsion related from Minox to Linhof. We also have fresh film including Minox, Minolta-16, 126, 110, 135, 120, and 4x5 sheet film. We also offer 8mm, Super 8, and 16mm cinema film.
We develop film, scanned and print it too.
We do C41, B/W and E6 processing and scanning for 35mm, 120, 110, 126 to 4x5, 5x7 and 8x10 sheet.

We can also scan and convert to video your 8mm, Super 8,  16mm, VHS, and any video tape format
We also offer C-Type printing using our Fuji Frontier professional printer. This type of printing technology, paired with our Fuji Crystal archival papers, creates an analogue style print with unparalleled depth, subtlety of tonal variation, shadow detail, w

hile maintaining distinctive eye-catching color, durability, and excellent surface smoothness and flatness.
Throughout all our developing and printing process we use original Fuji chemicals. 
Develop Only: $10
Develop and Scan: $15
Develop and Prints: $18
Develop, Scan & Prints: $20
Develop Only: $15
Develop and Scan: $20
Develop and Prints: $22
Develop, Scan & Prints: $25
Develop Only: $15
Develop and Scan: $20
Develop and Prints: $22
Develop, Scan & Prints: $25